Dr. Mickie O'Donnell, DDiv – Chairperson
Mickie O'Donnell retired from local church ministry in 2018 after 44 years. Mickie holds a Masters of Philosophy from Aberdeen University, Scotland, a Masters of Religious Education from Trinity International University, Deerfield, IL, and a Doctorate of Divinity from Mission India Theological Seminary, Maharashtra, India.  Mickie is the President of Lord and King Associates, LLC,  a consulting company specializing in Leadership Development, Transition Planning, and Spiritual Formation and Discipleship.
Dr Mickie has been to India seven times since 2015 to work at Bible Colleges and local churches training leaders and pastors to utilize the BibleTelling concept for discipleship and evangelism even among the illiterate. She has served on the Board of Directors with Reaching Indians Ministries International since 2017. Her love for India and the extended family that she has developed there since 2015, makes Mickie very excited to serve as Chairperson of SAGE in its inaugural years.
Mickie and her husband David live on the West Coast of Florida and are active in ministry with Christian Motorcyclists Association, reaching motorcyclists for the Lord.  They have a blended family of 6 grown children.  Their 11 grandchildren range in age from 3yrs to 21yrs old.

Mr. Justo Escobar – Vice Chairman
Justo Escobar was born in Cuba and immigrated to America at the age of 8. He is a graduate of Florida Atlantic University with a BS in Math Education and is currently President of Escobar Enterprise Master Cabinet Makers Inc. He is married to Coleen Cramer Escobar. They are blessed with two sons, David and Jonathan. He has been a member of the Gideons International since 1986 and has served in various leadership positions at the state and national levels. He has served as an elder of Christ Redeemer Presbyterian Church in Live Oak, Florida since 2014.
Rev. David Burke – Secretary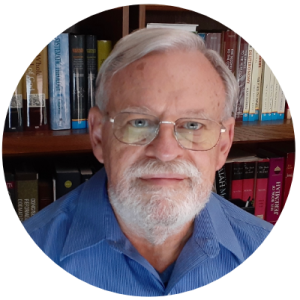 Rev. David Burke is pastor emeritus of Ortega Presbyterian Church (PCA), Jacksonville, FL, where he served as senior pastor for 21 years. He previously served churches in Kansas and Michigan and was a board member to a mission agency that served South America. He and his wife Vickie continue to reside in Jacksonville and will celebrate their 50th wedding anniversary in 2021. They have four children and six grandchildren. Two of their children's spouses are internationals (Slovakia and India).  He and Vickie share a passion for missions and Christ's Church worldwide and David feels privileged to serve on the board of SAGE. He is a graduate of Reformed Presbyterian Theological Seminary in Pittsburgh, PA (M.Div) and worked as an electrical engineer for 25 years (BSEE). He remains active in serving local churches 'behind the scenes,' and taught Christian worldview, introductory physics, Greek, and other classes to high school students for nine years here in Jacksonville. 
Mr. Bert Richardson – Treasurer

Bert has worked as a forester for the government, private industry, and as a consultant.  He is married to Donna Richardson.  They have two grown daughters.  Bert has had an interest in missions most of his adult life.  He is presently serving on a missions committee and two mission boards.  He has been on visits to the persecuted and underground church.
Bro. Aaron Turner – IT Specialist

Aaron Turner is retired after serving in ministry  for over 38 years in various capacities. He is currently the owner of Nature Coast Media, a web design firm, which he founded to supplement his income, while a bi-vocational pastor. He is married to his wife of forty years, Holly, whom he met on a missions trip to Mexico.  The Turners have four children, all grown, and 14 grandchildren.  They currently live in Billings, MO, next door to their oldest son, and his family. They are members of Meadowview Baptist Church, in Republic, MO. They enjoy playing music, spending time with their family, and taking rides in the Ozark Mountains.  Aaron is thankful for the opportunity to serve with SAGE, and he looks forward to what the Lord is going to do through this ministry.